As published by modern diplomacy by Uran Botobekov on July 27, 201
Al Qaeda's subsidiary from Central Asia, Uzbek Salafi-Jihadi group Katibat al Tawhid wal Jihad (KTJ), accused the U.S.-backed Kurdish-led Syrian Democratic Forces (SDF) and American troops in Syria of violently repatriating ISIS prisoners against their will to Uzbekistan and Kazakhstan. The former amir of KTJ, one of the well-known propagators of al Qaeda's ideology in the Fergana Valley, Abu Salah Uzbeki, has issued audio and text statements on the KTJ website on the Telegram channel, where he elaborated on the problem of repatriating Islamic State's jihadists to Central Asia. He accused SDF's Kurdish militants of executing the order of their American "owners" and forcibly repatriating the 156 captured Uzbek women and children of ISIS jihadists to the non-believer "Satan" regime of Uzbekistan.
According to him, "some Uzbek prisoners wanted to continue to remain on the ground of Blessed Sham, to move to Idlib and join us, Uzbek and Uyghur Mujahideen."By "the Uzbek and Uyghur Mujahideen" he means Salafi-Jihadi groups from Central Asia, such as KTJ, Katibat Imam al Bukhari (KIB) and the Turkestan Islamic Party (TIP), which are closely related to al Qaeda. Uzbek and Uyghur Salafists are leading a jihad against the Bashar al-Assad regime alongside the most powerful radical militant group Hayat Tahrir al-Sham (HTS) in northeastern Syria. These territories, now primarily controlled by HTS, often referred to as Greater Idlib, also encompass parts of Hama, Aleppo and Latakia provinces. As Michael Mulroy, deputy assistant US Secretary of Defense for the Middle East, said, "Idlib is essentially the largest collection of al-Qaeda affiliates in the world."
It should be noted that after the fall of the last stronghold of ISIS in Baghouz in March 2019, several hundred foreign fighters of Abu Bakr al Baghdadi and their family members from Central Asia have been detained by the SDF. Many Central Asian militants were placed in the al-Hol displacement camp in north-eastern Syria, where at least 13,000 foreign ISIS followers were being held, including 12,000 women and children.SDF Kurdish leaders have sounded the alarm that they do not have the capacity to detain so many people and appealed to foreign governments to take back its citizens. However, the ice was broken in February 2019 when President Trump urged the EU and other countries to repatriate and put on trial hundreds of their former ISIS jihadists captured by U.S.-backed Kurdish forces in Syria.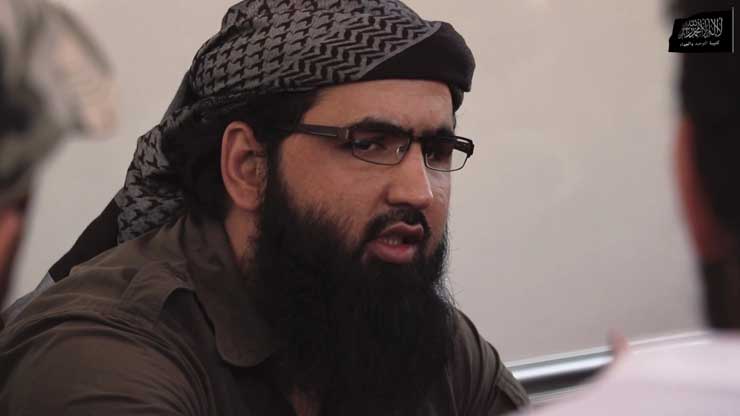 It may be recalled that more than 7,000 Salafi-Jihadist fighters from the former Soviet republics of Central Asia and Russia have traveled to Syria and Iraq in the last six years to join ISIS. Since the beginning of this year, Kazakhstan, Tajikistan, Uzbekistan and Russia have begun to retrieve their citizens, mostly children and women from the Middle East on a large scale. In particular, in April 2019, Tajikistan's authorities have repatriated 84 minors from Iraq, where their parents joined the Islamic State. Uzbekistan during the special operation "Goodness" repatriated 156 of its citizens from Syria and Iraq on May 30, 2019. Also, within the framework of the humanitarian operation "Jusan" (Wormwood), Kazakhstan has repatriated 231 of its citizens from Syria in May 2019. In January 2019, the Kurdish-led SDF has handed over to authorities of Kazakhstan five fighters, 11 women and 30 children. In total, Kazakhstan repatriated more than 500 of its citizens from Iraq and Syria in three stages. Astana's success was commended by the US Secretary of State Mike Pompeo who "praised Kazakhstan's global leadership in the repatriation and reintegration of its citizens from Syria, and encouraged Kazakhstan to share its experience with other nations."So far, Kyrgyzstan and Turkmenistan have not been able to repatriate its jihadists, many of whom are detained in prison camps controlled by the Kurdish SDF and Iraqi armed forces.
In response to the repatriation of ISIS militants to Central Asia, Abu Salah Uzbeki, a former amir of the al Qaeda-backed KTJ and a fiery ideologue of the Sunni Militant Jihadism, has sharply criticized U.S.-backed Kurdish fighters for forcibly repatriating of wives and children of ISIS militants to their homeland. He claims that returnees will face prosecution, torture in prisons and inevitable death in Central Asia. He viciously calls Kurdish troops a "puppet" of Americans, performing their will.
Further, Abu Salah Uzbeki explained that, despite the fact that ISIS was and remains an enemy for al Qaeda and Al Nusra, they consider Abu Bakr al Baghdadi's subordinates and their families to be Muslims."We should not rejoice when the Western Kafirs (infidels) bomb and destroying Islamic State's jihadists, on the contrary, we must help them return to the true path of Allah," he said in his audio statement. He emphasized that the leaders of the Central Asian and Caucasian Islamic Jamaats (groups) in Great Idlib took active steps to free the wives and children of ISIS militants from captivity held by Kurdish troops.
He said HTS leader Abu Muhammad al-Julani contacted the leaders of the Kurdish-led SDF offered them money and tried to make a deal with them to transfer the captive foreign and Syrian wives and children of ISIS militants to Idlib. However, the Kurds rejected the proposal al-Julani, said Abu Salah. At the same time, he mentioned that in 2017, when ISIS jihadists were surrounded by the Syrian government forces in the town of Ukayribatwilayah (province) Hama, al-Julani made a $ 100,000 deal with the Bashar Assad regime and freed more than 700 wives and children of ISIS militants. Among them were about 100 Uzbek women and children who were handed over to KTJ, Abu Salah said.
As is known, the ideological confrontation between al Qaeda and ISIS, which grew into an armed conflict, had a profound impact on the Central Asian militants. The struggle for leadership between the two main Sunni terrorist organizations has divided the Islamists of the post-Soviet countries, who made Hijrah (the migration of Muslims for Jihad) to Iraq and Syria, into two camps.
Often armed clashes took place between the Central Asian supporters of ISIS and al Qaeda's Uzbek Muhajirs in Syria. Taliban-backed and al Qaeda-affiliated KIB leader Sheikh Salahuddin was killed in an Uzbek ISIS militant hit in April 2017, during the evening prayer in the mosque of a Syrian city of Idlib. The wife and four-year-old son of Abu Salah Uzbeki were killed by a member of the Islamic State in July 2018, also in Idlib; he himself escaped an ISIS attempt on his life. The so-called Caliphate's Central Asian fighters constantly attacked their Uzbek compatriots of al Qaeda in accordance with the Takfir of Abu Bakr al Baghdadi.It is known that the Islamic State has accused al Qaeda of twisting the nature of Jihad and according to its interpretations of Islam's Takfir doctrine, Abu Bakr al Baghdadi declared entire sects, including al Qaeda, as apostates.
Uzbek supporters of Ayman al-Zawahiri have referred to Islamic State fighters as liars and Kharijites (the early Islamic sect that was involved in the disruption of the unity of the Muslims and rebelled against the Khalifah) who have mischaracterized al Qaeda's guiding doctrine.KIB, KTJ and TIP refuted al-Baghdadi's assumed title of caliph, the leader of all Muslims, and jointly HTS often performed operations against ISIS enemy elements in Idlib, and carried out public executions of captured Kharijites.
And now, when the Caliphate was defeated and its many jihadists, who survived the bombings of the Western coalitions, were captured by the Kurds, Abu Salah Uzbeki opposed the deportation of the wives and children of ISIS jihadists to their homeland in Central Asia.He openly stated that HTS and KTJ were trying to bargain with the Kurds so that they would "liberate" the captured jihadists of the Islamic State, including their wives and children, for money.
It is doubtful that such a defiant "concern" of the al Qaeda's Uzbek stump orator about the captive Caliphate fighters, the main rivals in the Salafi-Jihadi world, was sincere. Abu Salah Uzbeki's audio and text statements on Telegram show that the ideological battle between the two main Sunni Takfiri terrorist organizations continues. Today, ISIS and al Qaeda are continuing the virtual struggle for the hearts and minds of Central Asian radical Islamists, who are potentially ready to join its ranks and expand its social base.
Despite the loss of territory, the Islamic State has demonstrated its ideological vitality in the post-Soviet space. Recently, Abu Bakr al-Baghdadi's enterprise has claimed responsibility for three terrorist attacks in Tajikistan. According to the militant group's online Al-Nabaa, "caliphate soldiers" killed 32 people in Vakhdat Prison in May 2019. Tajik authorities accused ISIS of another prison riot in Khujand in November 2018, when 25 inmates and two security officers were killed. The Caliphate's Amaq News Agency has claimed responsibility for the killing of four foreign cyclists in Danghara district in July 2018.Over the past year, the Islamic State claimed responsibility for more than ten terrorist attacks in various regions of Russia, including Chechnya and Dagestan.
After the fall of the ISIS' last stronghold in Syria's Baghouz, al Qaeda, al-Baghdadi's main rival in the world of jihadism, increased its propaganda via the Internet in the Muslim regions of Russia, Central Asia and the Caucasus.In this process, the key role is played by Abu Salah Uzbeki who has become an influential al Qaeda's ideologue in the Fergana Valley. His latest statement fits into the al Qaeda's ideological struggle for the soul of ISIS prisoners, betrayed by their Caliph and languishing in the hot sunny al-Hol camp in the desert of northeast Syria.